The Hong Kong Aikido Association just celebrated its 45th anniversary and invited Ueshiba Mitsuteru, Aikikai Hombu Dojo-cho to give a seminar in Hong Kong for the occasion.
If we do not do Aikido, our origins still come back to Ueshiba Morihei, the founder of Aikido, as he was the teacher of Mochizuki Minoru sensei. A pre-war Aikido, Yoseikan Aikido differs from the more modern styles of Aikido but the arts remain cousins and similarities exist, so it was making sense for our dojo to attendas well and celebrate the anniversary with our colleagues from HKAA. Unfortunately two of us could make it only this time but we hope to be more next time.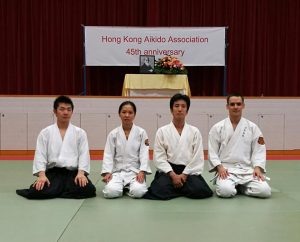 The weekend was also a great opportunity to see our friends from Singapore's Shinjukai Aikido, led by Philip Lee Shihan, who welcomed Xavier Duval back in May for an Aunkai seminar in their headquarters. Terry who joined the Hong Kong Aunkai seminar back in March was there too and it was a great pleasure to see him again and spend some time together on the mats.